Velvet Care Guide
By Sophie Hardy, 16th February, 2018
As with any fabric, a little care and maintenance is required to keep your velvet furniture looking its best, so we have created this guide full of helpful tips and advice for you to do just that.
Originally, velvet was made from silk and had a difficult production process, which made it a luxurious yet costly fabric to manufacture, so only the rich could afford it. This type is still rare and expensive today and requires careful maintenance. However, there are now various other types crafted from cotton or synthetic fabric, making it more affordable and practical for furniture.
Types Of Velvet
There are actually around thirteen different types, but we have selected three to use in our fabric dining chairs and bar stools. Crushed velvet has a distinctive sheen and pattern to it. This creates a dazzling appearance and also hides any dirt or marks better than other types. Microfibre has very fine fibers that form an incredibly soft texture, as demonstrated by the Fontaine Chair. And finally, the subtle matte quality of our popular Moreton Dining Chair and Brunswick Stool comes from velour seat upholstery. Velour has a more prominent pile, which can require a little more upkeep as we explain below.
Maintaining the Velvet Pile
The dense pile is one of the key characteristics of velvet. You will find this is especially noticeable on lighter colours that do not have a pattern or crushed texture. The distinct pile is formed because its fibers are woven into small loops in one direction, and so it has a different feel and appearance if the pile is pushed in the opposite direction.
Generally, velvet items are made with the pile going down. If you brush your hand down with the pile, it will feel smooth to touch and look lighter. If you move in the opposite direction and push against the pile, it will feel coarser and look darker. You can see the difference in our velour upholstery in the image below.
The direction of the pile can therefore make a big difference in the appearance of your velvet furniture. Even though this is a natural quality of the material, and adds to its character, any sections that have been pushed against the pile from everyday use will create a scratchy appearance and may even look like imperfections on the fabric.
So, for the neatest possible look, you want to brush the pile in the same direction over the entire item. For a quick and easy fix or for smaller touch ups, this can be done by hand, as seen below on the seat of a bar stool.
For long-term maintenance, a clothes brush works extremely well. Double-sided clothes brushes are ideal – one side has softer bristles for general upkeep and the other has a more abrasive material. The latter works well to brush out any stubborn marks or creases that may occur if care is not taken when in use or when rough clothing items, such as sequins, come into contact with a seat.
General Care Tips
Brushing velvet furniture regularly will not only maintain a neat and smooth appearance, it also lifts the pile and reduces the effects of being flattened by constant use. The brush can be used to remove any dust and dirt between the fibers, and for a deeper clean you can use a vacuum cleaner with an upholstery attachment.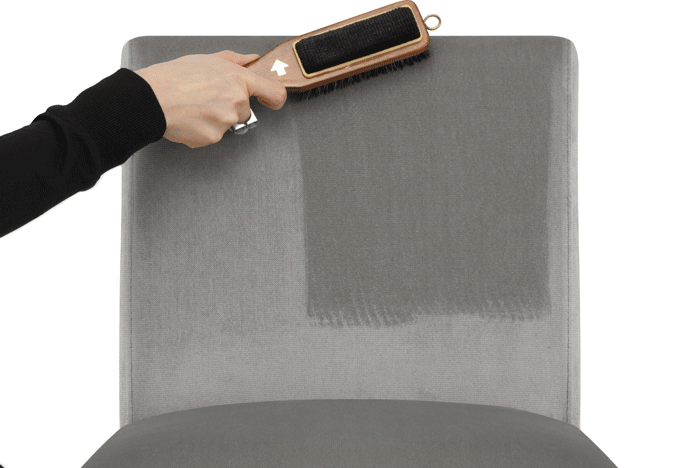 Take care not to get the velvet wet. Any spillages should be taken care of immediately using a dry clean cloth to gently blot the liquid. Be sure not to apply too much pressure when blotting as this can flatten the pile. Leave to dry, and then brush to avoid any matting of fibers.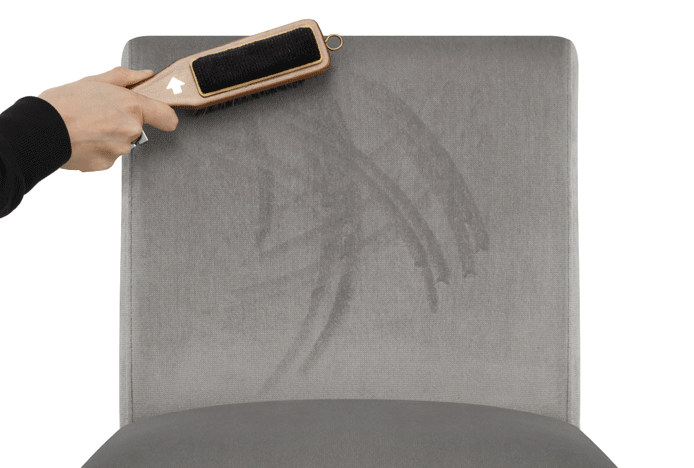 With these quick and simple tips your velvet furniture will continue to impress for years to come. If you're unsure how to introduce this luxurious material into your interior, our blog post How To Use Velvet In The Home has plenty of ideas and information.
Please note: These procedures are to be undertaken at your own risk. Atlantic Shopping will not be held responsible for any damage incurred.