Introducing Our New Website
By Clemency Hitchings, 7th June, 2016
After months of hard work, the team at Atlantic Shopping are excited to announce the launch of our brand new website! With a new look, as well as lots of exciting features, we hope that it will make shopping with us more enjoyable than ever. Take a look around, and let us know what you think!

"Rest assured that, although a lot has changed, you'll still find the same great products, unbeatable prices, and amazing delivery service on our website. We're still a family-run business, and we still firmly believe in the value of fast, friendly & helpful customer service."
Fresh New Design
The first thing you'll probably notice is our brand new website design. As a company, we believe that shopping for furniture should be as straightforward as possible, and we've tried to reflect this with our minimalist look. To save our customers spending hours trawling through listing pages, we've grouped all the colours of each product under one listing, with coloured swatches underneath each to show the available colours.
We've also made sure that our site is compatible with mobile, tablets and desktop computers, so wherever you are and whatever device you're on, you'll be able to browse the site with ease.
Help Me Choose
To help our customers find their perfect stool design, we've created 'Help Me Choose', located on the bar stool menu at the top of the page. To find the right stool for you, simply enter a few details, including your preferred colour, ideal backrest height and your maximum budget. You'll then be shown a range of stylish bar stools that suit your exact needs- simple!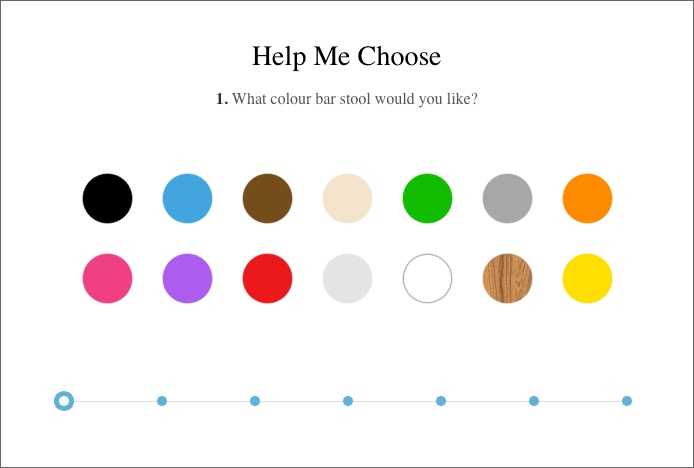 Why not check it out for yourself?....
Brand New Content
It's not just our look that's new. We've been working hard to put together loads of handy content, designed to help you to find the perfect products for your needs. Don't know your acrylic from your ABS? Our one-stop Furniture Glossary of Terms explains all the words and phrases that we use on our site, so you'll be clued up and in the know.
To answer any further questions that you might have, we've created a series of short videos. Whether you need to know how to assemble a bar stool, or how to disassemble one, or you want to find out more about our delivery service, they're packed full of helpful information to make your life a little easier.
We've also improved our buying guides, as well as adding two more: TV Stand Buying Guide and Bed Buying Guide. To our popular Bar Stool Buying Guide, we've added an exciting feature: the Bar Stool Width Calculator. Simply enter a few details, and the calculator will work out the maximum width of stool that you can fit along the length of your breakfast bar. You can then use the external seat width slider on the listing page to narrow down your search.
Finally, make sure you take a look at our brand new Inspiration & Advice hub, formerly known as the Knowledge Base. From handy how-to articles to the latest home interior design inspiration, it's the perfect place to get top tips. You can also now filter the articles by product or type, saving you time!
European Delivery Service
Along with our new website, we're launching our exciting European delivery service, delivering to Belgium, France, Germany, the Netherlands, Luxembourg, Italy and Spain. To find out more about our fantastic prices and transit times, take a look at our International Delivery page.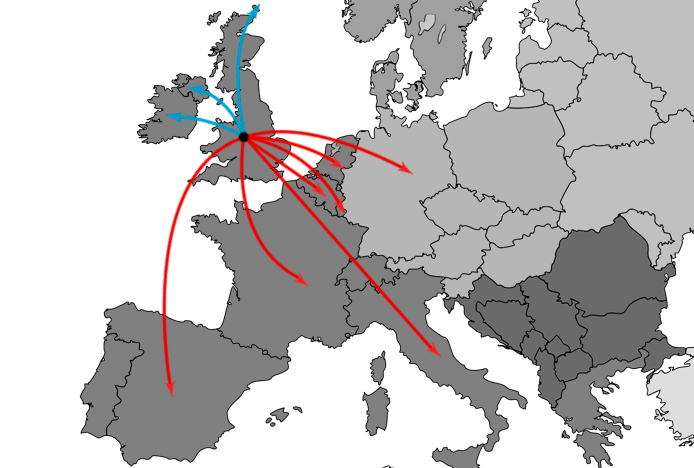 We hope you'll like the changes we've made to our site. Why not get in touch and let us know what you think? We look forward to hearing from you.
The Atlantic Shopping Team