How To Mix & Match Dining Chairs
By Sophie Hardy, 15th September, 2016
The eclectic look is ever popular in home décor, and an easy way to follow the trend is to mix and match your dining chairs. Often seen in vintage style bistros and cafes, it can also be done with contemporary designs in a variety of ways. Pairing different chairs forms a relaxed and inviting atmosphere, allowing you to create a dining area with character and personality, which is something you don't always get with a matching set. We have put together some examples, and with our broad range of designs you're sure to find the perfect combination to get the look in your home.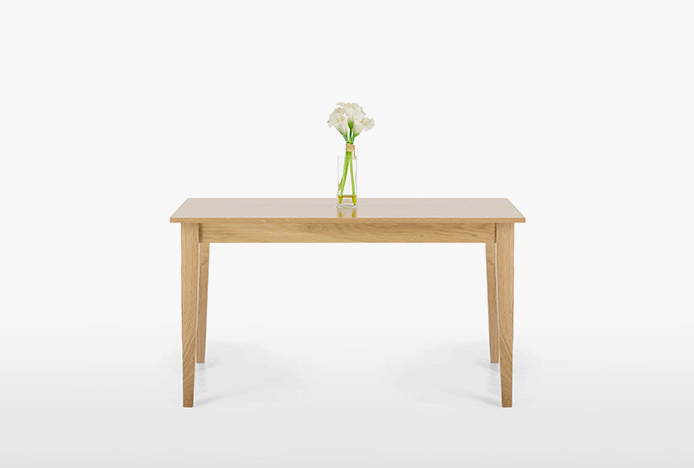 The key to achieving successful mismatched style is to select chairs with one common element, this could be shape, design, colour, or material, but doing so will keep some consistency in your dining area. As seen with our Verdi and Vigo chairs above, the colours and designs differ slightly, however thanks to the similar upholstery and frame finish they form a charming one-of-a-kind set.
We have chosen eight examples to inspire you, with each one bringing a different dynamic to the table:
Same Design With & Without Arms
Seen as the traditional dining table setup, the obvious choice is to use dining chairs with arms, also known as carver chairs, for each end of the table and place dining chairs without arms along the sides. Create a continuous aesthetic by choosing chairs with the same design, like our Ramsay Walnut Chair & Ramsay Walnut Chair With Arms. Chairs without arms are generally cheaper, whilst those with arms are perfect for the end of the table as they occupy more space. So not only is this combination inexpensive, it is also ideal for small spaces.
(October 2018 - Please note, the Ramsay Chair has now been discontinued)
Same Design Different Colours
An easy way to get this look is to choose the same design in different colours. The shape, style, and materials are identical but it allows you to emphasise or create colour schemes in your dining area. This bold look is more suited to modern designs, so why not try a variety of vibrant shades in a white space to make a real statement. Chairs in complementary colours or colours that match your interior will produce a neat mix-match style. Our Clementine Chair (seen below) has an array of funky colours, or opt for neutral shades if you're worried about it looking over the top.
If you plan to make a statement with your mixed dining chairs, using vibrant colours or bold pieces, select a simple or neutral dining table so your furniture isn't fighting for attention.
Same Colour Different Design
Keeping the colour of your dining chairs the same allows you to introduce unique designs. You can bring in different shapes, seat materials, and finishes, which is more interesting visually but still has a similar overall aesthetic. For example, the Candy Chair has a rounded wooden seat whilst the Taurus Dining Chair has a rectangular faux leather seat, but their colour and chrome frame finish unites them. Maintaining the same style will tie each piece together, the Candy and the Taurus are both contemporary models, but you could always mix and match modern and vintage pieces for a real juxtaposed look.
When selecting completely different designs just remember to check the seat height of each chair before purchasing, to make sure your guests will be sat at a similar level.
Same Design Different Upholstery
Go for an understated look by using chairs from the same collection with different upholstery. Switching up the seat material will bring added texture to your dining area, with the likes of faux leather lending a cool contemporary appeal whilst fabrics have a soft and cosy feel. Keeping the colours similar works best for this style, as the end result will still match but the change in material will add subtle contrast. Our Taurus Dining Chair Fabric is a stylish example, with the Taurus Dining Chair as its faux leather counterpart.
Same Materials Different Design
Pairing upholstery is a great way to combine unique chair designs. The key is to buy chairs from the same manufacturer to ensure the type of fabric or leather will match exactly. When combining different seats try to keep the frame finish consistent, for example, black satin finished legs would clash with oak and make the contrast too severe.
If the seats have the same fabric and similar decorative details, the colours do not necessarily have to match, you could pair complementary shades or create a monochrome scheme. The Ascot, Barrington, and Chatsworth are great examples, they all have fabric upholstery and each one features a quilted design with oak wooden legs.
Same Design in Pattern & Plain
This can be a simple method of introducing pattern to a plain room, or seek out designs that will tie in with other elements in the room, like floral wallpaper or a striped rug. You could arrange the plain chairs on each end with the patterned ones on the sides or vice versa, but opt for designs with similar shades of upholstery to keep a cohesive colour scheme. Neutrals work best for this, as it can be difficult to get an exact match on vibrant colours, particularly on designs from different collections. Similar in shape and design, our Roma Dining Chair Oak & Stripe makes a great counterpart to the Carlo Oak Chair Brown Fabric, they both feature neutral fabric upholstery with oak finished legs and a scroll back.
Add a Statement Chair
For a cost effective mismatched look, or if mixing all your dining chairs seems messy to you, just swap one chair from your existing set for a single statement piece at the head of the table. Plus there's always more room at the end of the table for bigger and bolder pieces, so it makes sense to make the most of it. Our Moreton Dining Chair with the Fleur Chair at one end would make a great pairing, playing with scale but keeping style and upholstery the same. When looking for singular pieces, make sure you take advantage of sales and find bargain items that are missing a full set.
Swap Chairs for a Bench
Create a casual dining area by adding a bench to your dining set. Replace one side of chairs with a bench, or place one at the end of your table depending on the size. This is a great option for smaller spaces because a bench can be placed along a wall, and its lower design takes up less physical and visual space. Try to match the frame finish of the bench with your dining chairs, or opt for an upholstered design, and pair it with a dining chair in the same colour fabric, as seen below.
The mix and match look is a really simple way of updating your kitchen or dining room without having to splash out on a complete new set of dining chairs. We have given you just a few examples of the possibilities, but you're sure to find more combinations when browsing our range.