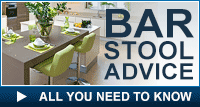 As well as presenting the public with a range of phenomenal bar furniture, we also supply a number of professionals with our products. Across a number of sectors, our clients find a multitude of uses for commercial bar stools, ranging from...

Contract Bar Stools

We often find ourselves approached by clients who are looking to place bulk orders for our contract bar stools. There's a number of reasons why professionals may be drawn to working alongside us, including our belief in producing high quality items at reasonable...

In order to ensure that your display catches eyes at a show, it's worth investing in some eye catching exhibition bar stools. Durable, utile and fashionable, they will attract attention in more ways than one, boosting business and enabling you to establish a stylish reputation...