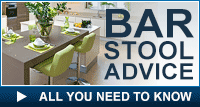 Black bar stools are the most popular of all the colours, working superbly in all locations and with any period of decor. These items come in a huge variety, with many sumptuous materials on offer from soft faux leather to durable ABS resin, so here we provide some advice in picking the right style for you...

The sleek and elegant nature of black bar stools has ensured they are always highly sought after. Fitting into a traditional kitchen as flawlessly as they would a minimalist metropolitan bar, high quality construction and unique styles ensure they are always at the forefront of cutting edge furniture design...

From the chic and compact to the large and luxurious, black bar stools come in all shapes and sizes. Stainless steel, hand brushed or plated in chrome sits alongside wooden frames, whilst the seats cater to all, from foam padded leather through to ergonomically formed acrylic Perspex adding impact and character...