Bar Stool Advice
Many of our bar stool designs are exclusive to us in Europe which means you will not find these original products on any other website or store. Another unique feature to Atlantic shopping is that we upgrade all of our stool metal bases to a thicker gauge steel for added strength and stability. Every stool has a full fire retardant certificate, which unfortunately is not always the case with all stools found on the UK market.
---
5 points of consideration when choosing a bar stool
Today our huge range of bar stools have evolved into an array of styles to suit different environments and tastes. Our stools vary from; gas lift variable height mechanisms through to fixed seat height, and also stools with or without backrests and with arms. Within this section we aim to try and give you advice on choosing the right bar stool for your needs.
---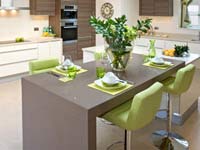 Firstly, consider which room you'll use your bar stools in - is it your kitchen? Games room? Or in a commercial bar? As this will influence the design and materials you choose. Look for a design that will fit in with the theme and style of your room, such as more traditional wooden stools for a country kitchen or choose contemporary chrome for a modern breakfast bar. Alternatively if your kitchen features a lot of brushed steel i.e. with appliances or electrical sockets you may wish to complement them by choosing a brushed steel finish. Another facet to take into consideration is the colour scheme.  Here you have  a number of options. Firstly to match the seat colour with the work surface, secondly to match the cabinets or thirdly to introduce a new contrasting colour as seen in the adjacent photo.
---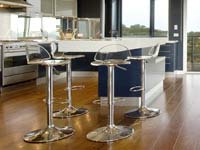 Stools come in a wide variety of different styles and colours. The majority of the stools on the market have a gas lift variable height mechanism and have round or square bases. The seat however can easily change the style of the stool. Some stools have seats made from ABS plastic such as the Coco's, Abyss and the Crescent Bar Stool which tend to give a more retro feel. Alternatively as walnut kitchens are becoming ever popular, stools with wooden seats are also becoming increasingly fashionable such as the Alpino Bar Stool. For a slightly softer look the stools covered in a faux leather are the ideal choice. If you prefer stools with a more traditional feel with 4 legs then we can also cater for that.
---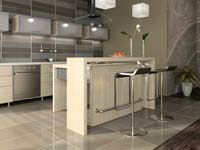 The height is probably one of the most important deciding factors on choosing the right bar stool. To be comfortable whilst sitting on your stool there needs to be enough room for your legs to go under the bar or kitchen work surface; you require a size able gap above, with the aim of giving you a similar posture as if you were sitting at a table. In a kitchen environment the standard height for a kitchen work surface is 90cm. This seems to be a standard within the industry. It may differ plus or minus 2cm however, depending on how the kitchen fitter was feeling on that particular day! If the dimension from the floor to the underside of the work surface is around 90cm then you need a stool which has a seat height of approx 65-70cm. This will give you 20-25cm for your legs and will be comfortable to sit at. This is why a lot of the stools we sell are built around a gas lift mechanism.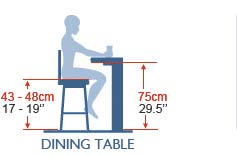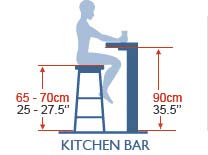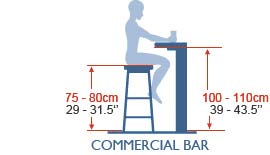 Within a commercial bar environment the seat height tends to be higher. Bars often have a height from the floor to the underside of approx 100 -115cm. With this in mind the seat height has to be a lot higher. Two stools we sell which would fit this criteria would be the Deluxe Casino and the High Ace Brushed Steel Stool. Owing to the extra height both these stools have heavy bases so as to make the centre of gravity lower and hence more stable. Commercial bar stools are built extremely strongly and due to the increase in weight are often more expensive. With this in mind we offer some less expensive stools which have a seat height of 75cm, which are ideal for those working to a smaller budget, these stools are the - Oberon, Narrow Backs and Set of 2 Chrome Stools.
---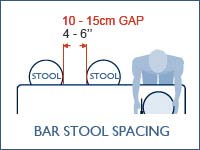 In order to determine the width of the stool you should be looking at buying; firstly,you need to measure the length of your bar or kitchen work surface. Most people know how many stools they require , so you need to divide the length of the kitchen work surface by this number. You need at least 10 to 15cm between each stool i.e. so that they can spin round and you can get between them. If you have a gap to the left or the right, for example is at the end of a kitchen island then you can get the stools slightly closer. The minimum width of bar stool is approx 38cm. Examples of these stools are the Mars and Coco Bar Stool which are both backless stools. When you add a back to a stool the width increases to 40cm - 45cm, such as in the Deluxe High Backs and Crescent Bar Stools. When you add arms to the stool, the stool width grows again.
---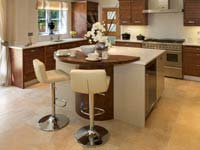 When it comes to comfort many people prefer a stool with some form of back support. The heights of the backs vary from a small lip as found on the Mars and Lulu, which give you that feeling of stability. The backs on Deluxe Crescent, Padded Crescent and Pluto Bar Stools offer good support through to the lumbar-thoracic junction. However if you require more chair-like support then the Deluxe High Back Stools are an ideal choice. As the size of the backrest increases the stool visually starts to have more presence. Therefore, these stools are best suited to larger more spacious areas. This is why our mid height backrests have become so popular. Stools such as Pacific and Mimi are excellent examples, giving you good support and having minimal impact on a smaller room.
---

The choice from our range of stools is quite extensive so we have team ready to help you make the right decision and point you in the right direction. We also stock a range of bar and poseur tables to match and a bar table glossary explaining each term. Understanding that it is not an easy decision so even if you have the smallest question please feel free to contact us or call us on 0845 520 0000 or 0121 230 1644. Either way we are here to help and advise you, and would love to hear from you. We also have a brochure in the form of an interactive e-brochure where you can flip through the pages at your leisure and print off the entire collection.
Please Remember: We also have an extensive showroom displaying 90% of our products. It is situated in the heart of Birmingham City Centre just behind the National Indoor Arena (NIA). We have over a 100 car park spaces and one of our team will gladly talk you through the stools in person.
ATLANTIC SHOPPING
Britannic Warehouse
142 Sandpits
Birmingham
B1 3RJ
Many thanks
The Atlantic Shopping Team