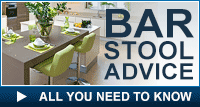 The desirability of chrome bar stools is indisputable, with a sleek mirrored finish that works beautifully in any setting. Stylish yet practical, chrome is hard wearing and simple to maintain, remaining resilient against even the daily rigours of a domestic bar area...

Chrome bar stools came popular in our homes during the 1990's. Adding a touch of glamour and sparkle they prooved very popular. However as the market progressed and kitchen manufactures started to use brushed steel people...

Offering a hard wearing finish, chrome bar stools have a shine like no other. With its mirror smooth finish it reflects the surroundings of your bar or kitchen. As one of the best loved frame finishes it comes with one of the largest ranges in a host of beautiful designs...