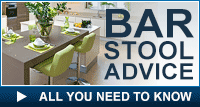 At Atlantic Shopping we offer several shades of green bar stools, with the aim of helping you find the best one for your home. The colour is more adaptable than may think, and complements hues across the spectrum. Whether paired with something lighter or used to strike beauty they are equally effective....

Faux leather and ABS resin are amongst the many materials used in green bar stools, and really help to illuminate the charms of this zesty and dynamic hue. The colour responds differently to every colour, adding lots of fun to the process of choosing your ideal piece to fit in with your....

When it comes to choosing green bar stools, there's a great number of attributes you will need to consider. Even within one type of model, there are many variations which add spice and variety to the process of making your selection. Naturally, brighter items are less subtle than their darker counterparts...