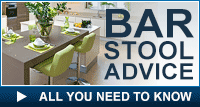 There are no products in this area
Perhaps you have come from an old link?
The choice of restaurant chairs is key to any establishment, setting the tone and the appearance due to their sheer numbers alone. Stylish and functional chairs are therefore imperative, ensuring your customers are comfortable and content....

As designers follow the latest fashion trends, in kitchens and dining rooms, modern dining chairs place an important part in the overall look and feel of a room. They come in a number of styles and finishes so as to match the rest of the furniture in the scheme...

When wanting to change the look of a room or to add some life to a dining table, the type of chair that you use is of great importance. There are a whole host of things to consider, from style and shape to size, colour and even the number of chairs you want to have around...