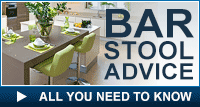 Wood Seat - 360 Swivel & With Legs - Dining Chairs
Compare up to 5 items
As shown in this dining chair glossary of terms, there are a number of factors to understand and consider when choosing your dining chairs. These include different materials, styles and features which can vary between designs…

As designers follow the latest fashion trends, in kitchens and dining rooms, modern dining chairs place an important part in the overall look and feel of a room. They come in a number of styles and finishes so as to match the rest of the furniture in the scheme...

When wanting to change the look of a room or to add some life to a dining table, the type of chair that you use is of great importance. There are a whole host of things to consider, from style and shape to size, colour and even the number of chairs you want to have around...