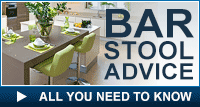 Green - Brushed Steel Frame - Kitchen Stools
Compare up to 5 items
As kitchen layouts become advanced and include state-of-the-art interiors it has become a popular design for the kitchens to include a breakfast bar, as a stylish alternative to a dining table. Obtaining the correct height stool is a necessity to maximize comfort...

There are many different types and styles of kitchen stools on the market. Varying from the modern designer type through to the more traditional wooden. In the last five years there has also been an introduction of abs plastic and acrylic seats to give...

Bar areas within the kitchen are great for casual seating. To for fill this new function kitchen counter stools have specially been designed and developed to be at the correct height and are stylized to match the varying designs found in our homes today...